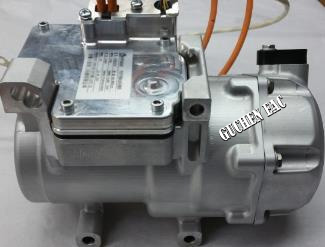 With the growing attention to environmental protection and CO2 emissions reduction, new energy vehicles are developing rapidly in the world. Pure electric vehicles and hybrid electric vehicles have been assigned a top priority in the further development of the worldwide new energy vehicle industry. Consequently, the needs for
highly reliable and efficient electrically-driven compressors
are also increasing, to match with the air conditioning system of electric vehicles.
---
DQ34A350 Electric AC Compressor Basics
DQ34A350 electric compressor is dedicated designed by
Guchen EAC Team
. It is a 350 volt high-voltage air conditioner compressor with super high efficiency, providing sufficient thermal comfort to the passenger compartment of electric vehicles.
The electric air conditioner compressor mainly comprises a
scroll compressor
, an electric motor, and a drive controller.
Scroll Compressor
: adopting
latest variable speed technology
. It is used to compress R134a refrigerant of the HVAC system in electric vehicles.
Three-phase Electric Motor
: During operation, the ac compressor is driven by brush-less permanent magnet motor which is integrated into the EV's high voltage network.
Drive Controller: the variable frequency drive controller controls the inverter to provide a variable speed for precise temperature control and high efficiency.
---
Top Picks of DQ34A350 Electric A/C Compressor
◆ Broad scope of applications
The high voltage AC electric compressor can be used in a wide range of electric vehicles, including pure electric bus, electric cars, trolley buses, hybrid-electric transit buses. It is also a perfect match for thermal management in electric and hybrid vehicle battery systems.
◆ Extraordinary Efficiency
Energy consumption is one of the most important factors when deciding a purchase. In air conditioning industry, the improvement of efficiency in A/C compressor will directly determine whether customers will take it as a preferred choice or not. Our highly reliable electric compressor is generally known as improved efficiency compressor. It is with high performance and extraordinary efficiency, which can perfectly satisfy the growing demands of electric vehicle HVAC market nowadays.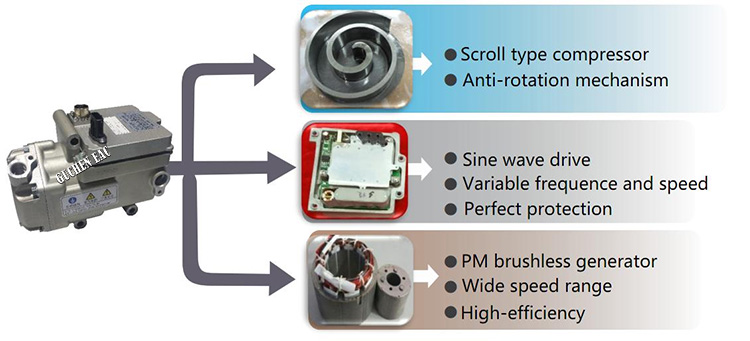 ◆ Fully Variable Speed Control
Intelligent speed control is a "must" in any optimized HVAC system in electric vehicles. A proper speed control of AC compressor insures a full variable adjustment of the cooling capacity on demand. DQ34A350 electric compressor is a
variable speed compressor (the most advanced scroll technology)
, which combines intelligent system control with
inverter variable speed
operation to insure a continuous matching between the cooling capacity and the varying thermal load;
▽ operating with a wide range of control;
▽ providing premium thermal comfort for application in an electric vehicle air-conditioning system;
▽ providing energy savings;
▽ providing enhanced load matching capability.
You may be interested in
320V Electric Compressor
,
380V Compressor
.
---
Components: Main and Functional 34cc 350V Electric Compressor's parts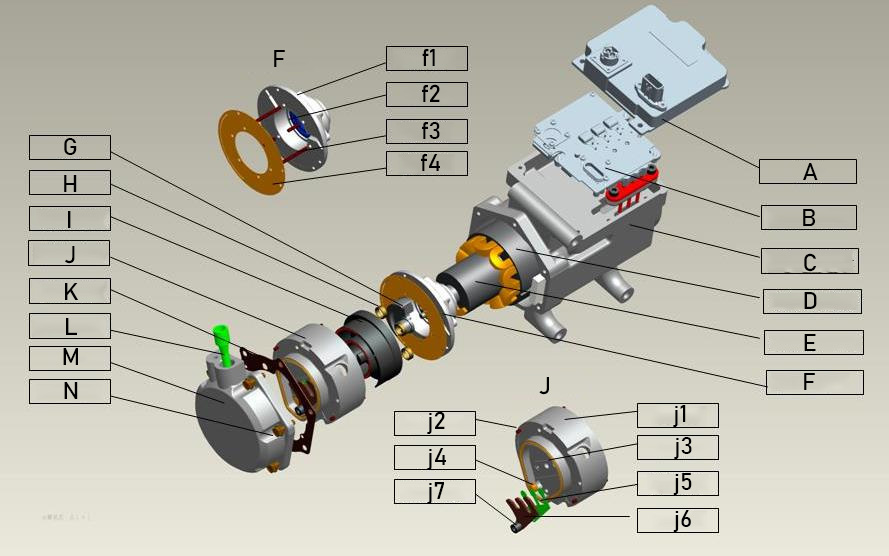 | | | | | | | |
| --- | --- | --- | --- | --- | --- | --- |
| A | B | C | D | E | F | G |
| compressor housing | inverter and control unit | electric motor housing | electric motor stator unit | electric motor rotor unit | bearing seat unit | bob-weight |
| H | I | J | K | L | M | N |
| ring loop | rotating scroll unit | fixed scroll unit | gasket | oil-gas separator | rear protective cover | fastening bolt |
F (bearing seat unit)

f1
bearing seat
f2
bearing
f3
cylindrical pin
f4
wear plate
J (fixed scroll unit)
j1
fixed scroll
j2
dowel pin
j3
sealing ring
j4
screen
j5
exhaust valve
j6
stopper
j7
fastening screw
---
Drive Port Definition of DC350V High Voltage Compressor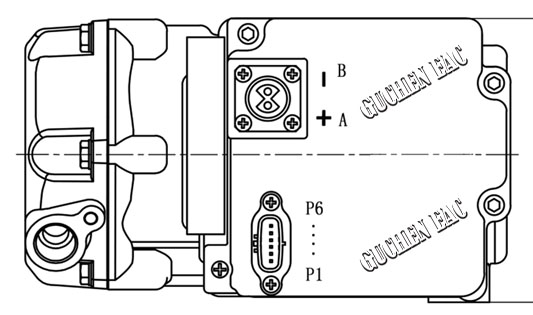 Connector
Terminals
Definition
High Voltage 2-pin (powertrain interface)
A
Positive terminal + of DC high voltage source
The connection between controller with power battery
B
Negative terminal - of DC high voltage source
Low Voltage 6-pin (control signal interface)
P1
12V+
The connection between controller with low voltage control system
P2
Start-stop signal input
P3
PWM Speed control signal input
P4
12V-
P5
CAN-H
P6
CAN-L
---
Positive Feedback: On-site Installation Pictures by the Overseas Customer
---
Video: