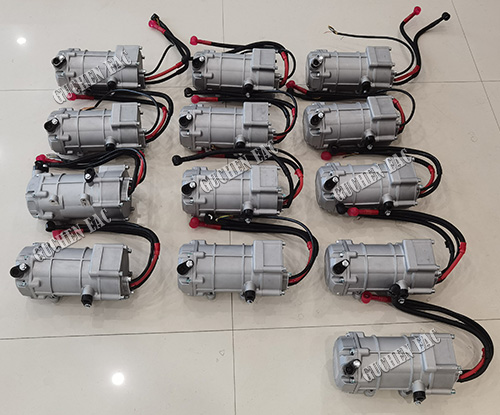 Chinese 24V DC Compressor Manufacturer
Guchen EAC is a top Chinese electric ac compressor manufacturer to work with. We offer
high quality electric vehicle compressors
with a reasonable price. During the past few years, China was in a strong growth in the EV market. The domestic electric compressor manufacturers constantly adapt and innovate the compressor technology, to meet changing needs on comfortable ride environment.
---
24V Compressor for DC Powered Air Conditioner
DC 24V air conditioners are getting popular when it comes to cool down a hot van/truck in a more energy-efficient way. GC27A24 24 volt compressor is specially designed for DC 24V Powered van air conditioners, high efficiency and energy saving. It can substantially reduce the power required to cool the vehicles, to best control the air conditioning system to meet climate requirements.
GC27A24 is a 27cc low voltage electric compressor for 24V DC powered ac units. Its beautiful design and high cooling performance makes it a widely-applied compressor in global HVAC markets like US, Australia, and Europe.
BTU output of GC27A24 24VDC air conditioning compressor: 15,300 BTU (max cooling capability). it has enough cooling capacity with super great cooling performance. It has the ability to remove enough heat from the vehicle, therefore GC27A24 is best used in high ambient areas.
---
24V AC DC Compressor with Ex-Factory Price
◆ In best price
Choosing the best money-saving electric compressor can mean massive budget cut when it comes to volume production of cost-effective DC powered A/C systems. Guchen GC27A24 24V compressor is affordable, and sold at the best price. When designing and manufacturing the
low volt compressors
, we have given enough consideration to both its cost effectiveness and product quality.
For request for quotes online, please send an email to Guchen EAC at shao@guchen.com
◆ Controllable speed
One of the biggest benefits of Guchen 24 volt air conditioner compressor is controllable compressor speed. Speed control is achieved by a variable frequency drive. The novel variable speed drive technology adopted in the GC27A24 unit makes it with improved energy efficiency and outstanding cooling performance.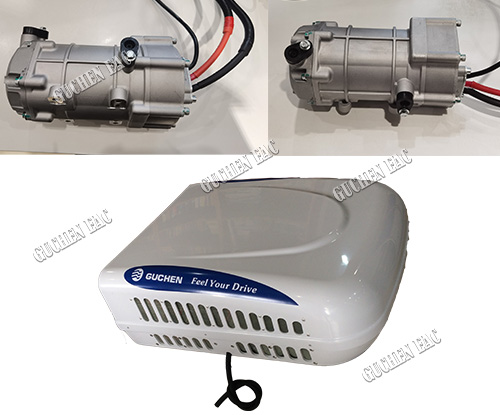 ◆ Continuous operation
The high quality 24 volt DC compressor is suitable for continuous operation. With better return on investment and higher customer satisfaction rates, it outperforms most other e-compressors in the market. Capable of running continuously to meet changing thermal (cooling and heating) load demands.
◆ -10℃ Minimum Functional Operation Temp
GC27A24 27cc 24 volt ac compressor is designed to operate normally in air temperature as low as -40℃. its operating temperature range is -10℃~85℃