As a high efficient electric automotive HVAC compressor in OE and aftermarket, GC34A800 is renowned for its superior cooling capability, quiet operation and optimum performance with minimal maintenance.
This 800V electric compressor is designed and built to meet all your specific requirements for comfortable cabin temperature in electric vehicles.
---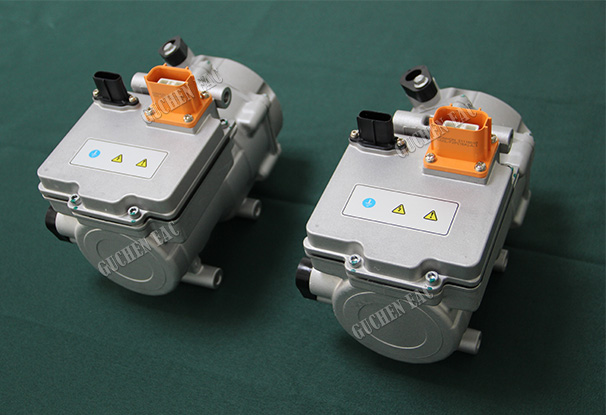 Guchen EAC DC 800V Electrically-driven Compressor Features
◆ Inverter Technology, Variable Frequency Drives & Built-in DC-AC Inverter
With leading technology, the 800V DC air conditioning compressors use inverter technology with a built in DC-AC inverter and Variable Frequency Drives (VFD). This allows for continuously controlling the HVAC system's cooling or heating capacity by varying the electric motor speed.
An electric compressor with inverter technology can quickly cool or warm the EV cabin to the desired temperature, and then efficiently hold a steady temperature.
Even more, GC34A800 model with inverter technology eliminates stop-start cycles, increases cooling efficiency, and prolongs the service life of components.
◆ Eliminating Sharp Fluctuations in the Load
The compressor drives provide soft starting which controls the applied voltage during startup. It smoothly ramps up the voltage, eliminating load and voltage fluctuation.
Soft starting has no impact on the motor, and improves the reliability of power supply. This function is used for protection of the 3 phase electrical induction motors, reducing inrush current.
◆ Ensuring the Clients Comfort at all Times
GC34A800 compressor is with 34cc displacement, 6140W maximum cooling capacity (strong cooling performance), to meet different climate control requirements for various clients. The 34cc electric compressor is compact in design, and excellent in reliability. It ensures quickly cooling-down, thereby improving the comfort level of the BEV cabin.
---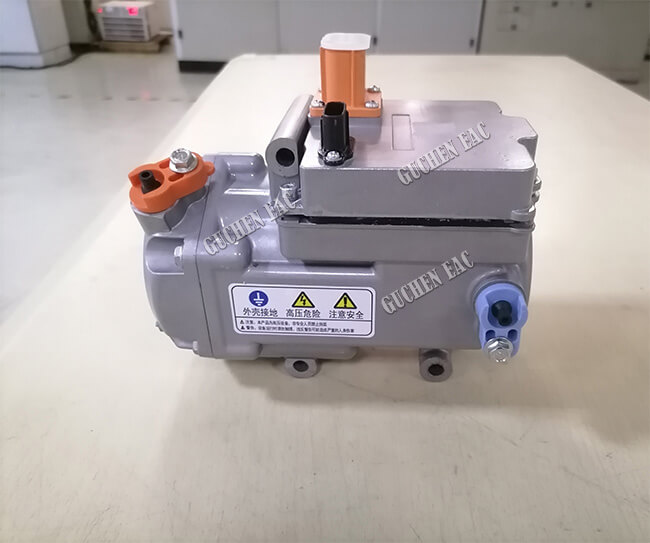 High Full Load Efficiency
The brushless DC motor in GC34A800 DC 800V compressor offers variable speed control during operation. It means that the variable speed electric motor is able to operate in optimum rpm to have the corresponding instant air demand.
Variable speed controlling
is one of the most unique selling points of EV AC Compressors.
Next, we would like to talk a little about the full load efficiency of GC34A800 unit.
Under changed and variable environmental conditions, the operating range of EV air-conditioning compressor is usually in the medium to high load area. Long-term high-load run poses a huge challenge to the safety and reliability of electric motor, inverter, scrolls and other components. Guchen EAC GC34A800 is manufactured to be able to operate at full load continuously without compromising on efficiency, safety and quality.
It performs well in both optimally function and full load run.
---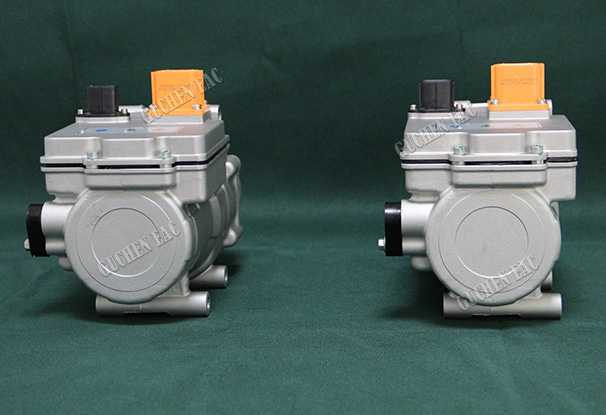 34cc 800V Electric Compressor Applied in Full Electric Vehicles
Guchen EAC supplies
electric air conditioning compressors
for all electric vehicles. The DC 800V electrically-driven compressor is best for
◆
electrified commercial vehicles,
◆
electric cars,
◆
electric pick-ups,
◆
electrically powered trucks,
◆
electric delivery vans,
◆
battery-electric buses,
◆
full electric minibus,
◆
construction vehicles (excavators etc.),
◆
electric agricultural vehicles (tractors etc.),
◆
electric solutions for heavy duty vehicles (i.g.
forest machines, mining machines, earth moving machines and so on
),
◆
and other electric passenger vehicle
s used worldwide.
No matter you are a large system-integrator of complete electric drivetrains for high performance electric vehicles, or launching a small-scale exclusive retrofit business, we have you covered.
If you are looking for a reliable technical partner for
HV compressor
, then cooperate with Guchen EAC, and take to our professional technical team for pinpoint air conditioning solutions and exceptional product support & service.