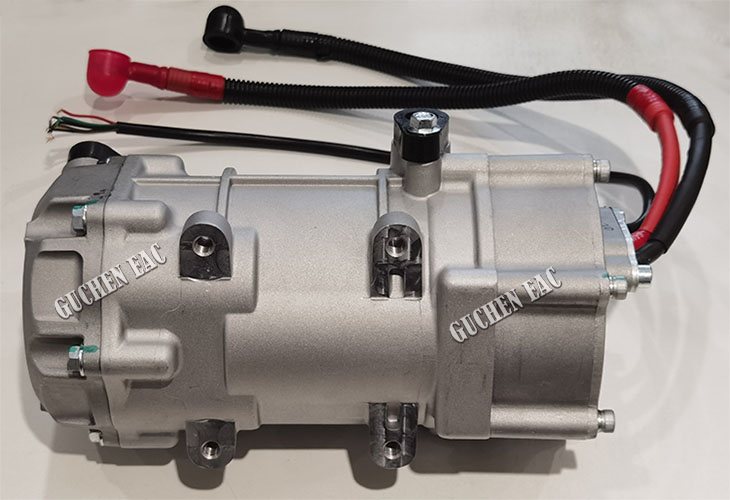 If you are researching a
fully electric 48V AC compressor to be used in light electric vehicles
, Guchen novel GC20A48 (20cc, 48v) and GC27A48 (27cc, 48v) models are your preferable choices.
These 2 models are DC 48 volt air conditioner compressor, with improved operational efficiency.
◆ featuring the latest variable-speed inverter technology;
◆ R134a electric scroll compressor;
◆ using premium quality brushless DC electric motor for excellent speed controllability.
◆ heat pump is available for heating in cold climates.
(For more details on heat pump system, please mail to
shao@guchen.com
or
ec@guchen.com
)
◆
12V
,
24V
,
72V
available too.
---
Wire in of 48V Electric Compressor
The 48V air conditioner compressor is fairly simple to wire in, with three looms in total; the red one is for the positive battery terminal, the black 1 for negative, and the black 2 is signal line in which consists of 5 wires with different colors (green, blue, white, black and red). It is usually controlled by a PWM generator or a 3-speed rotary switch.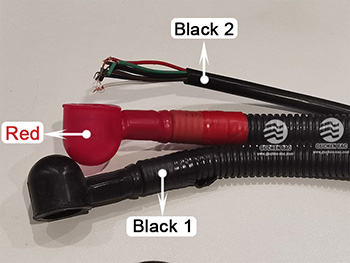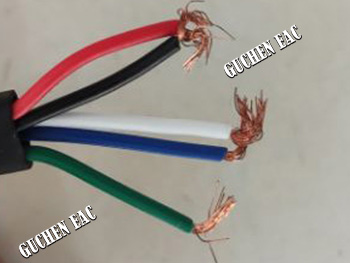 ---
Guchen 48 Volt AC Compressor boasts:
◆ Higher energy efficiency
It is a powerful and efficient electric compressor with minimum power consumption. The brushless dc inverter motor has an increased efficiency and consumes less electricity. The 48V DC scroll compressor as its high efficiency and increasingly improved cooling performance, it has seen an increase in demand. Meanwhile, it plays a more and more important role in small electric vehicle air conditioning.
◆ Safely and comfortable driving environment
All the innovative technologies of Guchen 48V compressor is to provide the highest quality of comfort through climate control. It is able to better match vehicle climate control requirements, and to provide maximum comfort in battery powered air conditioning applications.
◆ Very compact design & Low noise level
You can install the 48V e-compressor anywhere in the mini electric vehicles. The flexible installation is preferable for most micro electric cars with DC 48 volt air conditioner. Thanks to the low noise and compact build, this
low voltage ac compressor
will not disturb the riding environment, being the best choice that you will never regret.
◆ Soft Starting, Multi-level protection
The 48v electric automotive air conditioning compressor comes with multiple protection designs including under voltage protection, over voltage protection, over current protection and over temperature protection. All these protection designs protect the electric ac compressor from in unstable dangerous state.
---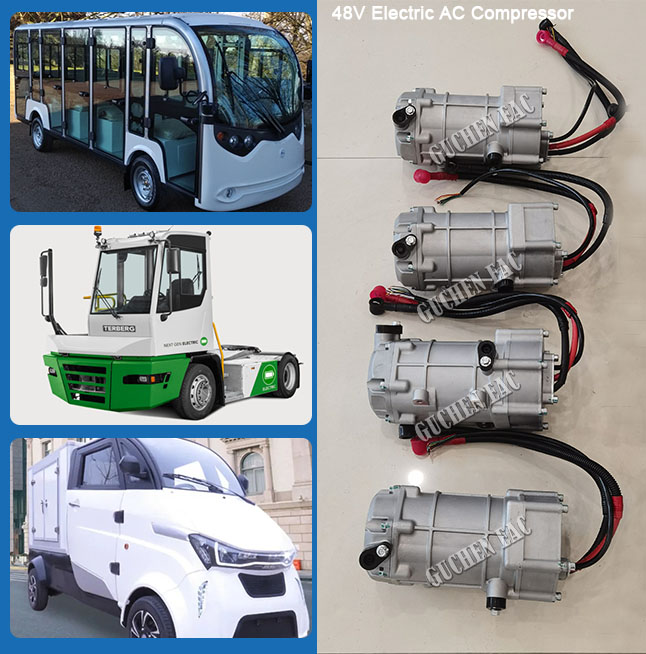 Application of 48V Electric AC Compressor
It is widely used in DC 48V air conditioning applications for:
◆ Electric multi-passenger vehicle
◆ Electric tractor for logistics
◆ Electric carts, mini electric car
◆ 48V Electric Utility Vehicle
◆ 2 Seat Electric Vehicle
◆ Micro Electric Last Mile Delivery Vehicle, Last mile delivery van
◆ 48V Electric Burden Carrier
◆ Electric tow tractor
It has the advantages of energy saving, efficient temperature control and high cooling capacity. For quotes online, please mail to
ec@guchen.com
or
shao@guchen.com