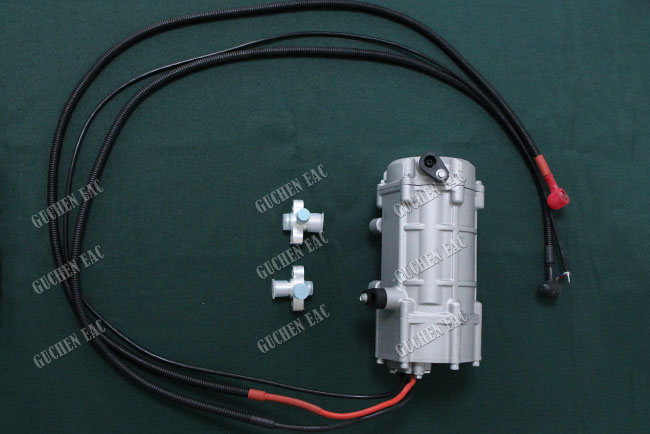 GC20A12 electric AC compressor is a low voltage DC 12V scroll compressor unit which means that it uses the "scroll" principle to compress the refrigerant (R134a) into the automatic AC unit, thereby producing a great cooling effect.
With high efficiency and reliability, Guchen EAC DC12V electric compressor is becoming more and more popular in automotive HVAC systems. GC20A12 12V direct current compressor is with improved efficiency for commercial vehicle electric air conditioning systems. Low voltage automotive electric AC compressor DC 12 volt for sale worldwide. It is a low noise 12V DC air conditioner electric compressor adopting advanced tech.
---
12V Operation
◆ Max Cooling Capacity: 2,400 W (8189 BTU/hr)
◆ Speed: 1,000 to 4,000 rpm
◆ Displacement: 20 cc/rev
◆ Double the performance of competing 12V units
◆ Cost savings estimated at 30% per BTU/hr over other brands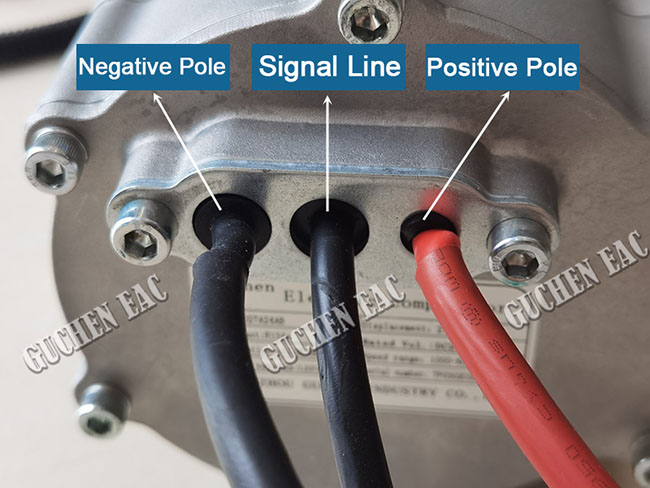 ---
Working Principle of DC12V Electric Scroll Compressor
GC20A12 12V DC low voltage scroll AC compressor is formed by two interlocking scrolls: moving scroll and static scroll, with two double function equations.
In suction, compression an exhausting process, the static scroll is fixed on the frame.
While the moving part is driven by the eccentric shaft, and controlled by the anti-rotation mechanism. It rotates in a plane with a small radius around the center of the base circle of the static plate.
The gas is sucked into the periphery of the static plate through the air filter element.
As the eccentric shaft rotates, the gas is gradually compressed in several crescent-shaped compression chambers formed by the combination of the moving and static plates, and then continuously discharged from the axial hole of the central part of the static plate.
---
Why to Buy Guchen EAC GC20A12 Mini DC 12V Refrigeration Compressor?
1. High reliability and safety
2. The innovative
12V DC electric air conditioning compressor
is a solid choice for any no idle application. For installing on vehicles & machines where DC powered air conditioning systems are used, the
20cc compressor unit
s can produce 2.4kW, and
GC20A24 24 volt
and
DC 72V Compressor
are also available.
3. Low noise and vibration
4. Latest inverter technology, higher efficiency
5. Delivering reliability throughout the testing and assembly process
6. GC20A12 Vehicle Compressor is mainly suitable for
no-idling A/C system
of truck, car, construction machine, tractor, commercial vehicle and so on, for any no idle application.
7.
DC 12V electric compressors
are by far the most frequently chosen compressors.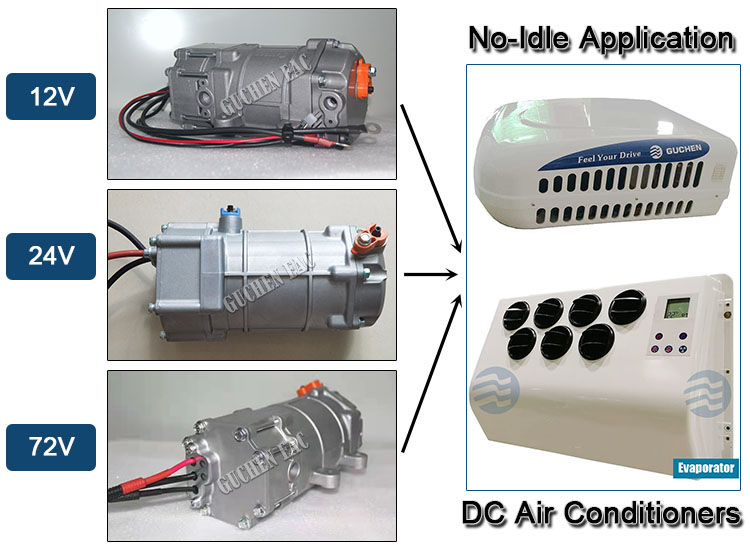 ---
More about Guchen EAC Electric AC Compressor
Guchen EAC has over 20 years of expertise in manufacturing and supplying
electric AC compressor
needs of worldwide customers. As the top compressor manufacturer in China, we deliver highly reliable high voltage and
low voltage electric compressors
, and cost effective refrigeration compressor solutions for an array of vehicle AC systems (electric vehicles, battery powered air conditioner for trucks/vans/tractors etc.).
Browse our wide selection of electric compressors to find your ideal solution. Contact with
info@guchen.com
.
---
GC20A12 12V DC Compressor's parts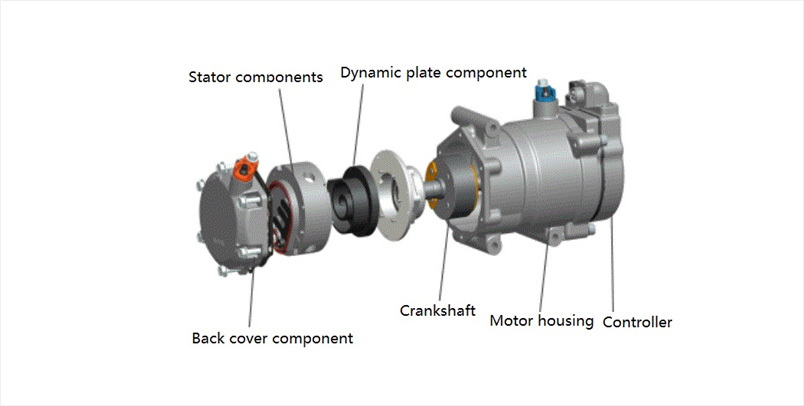 Manufacturer direct-selling efficient
12V DC compressor
for electric air conditioning. Mini DC 12V refrigeration compressor at best price for sale worldwide.