Electric vehicles are gaining market awareness. The future will be fully electric.
GC27A540 electric compressor
can run on 400-750VDC with R134a to implement it in kinds of electric vehicle ac units. It you need a 540 volt all-electric compressor to run the DC air conditioning system for electric passenger vehicles, Guchen GC27A540 is your most efficient cooling choice.
● It can reach a maximum cooling capacity of 4870W.
● The 540V AC compressor adopts the latest inverter technology. It can substantially improve energy efficiency by precisely controlling electric motor speed. Variable speed motor control means you get the advantage of extreme high efficiency.
●
The electric ac compressors
are built to withstand different weather conditions. A rugged design enables GC27A540 tolerate harsh operating conditions, and perform well then.
---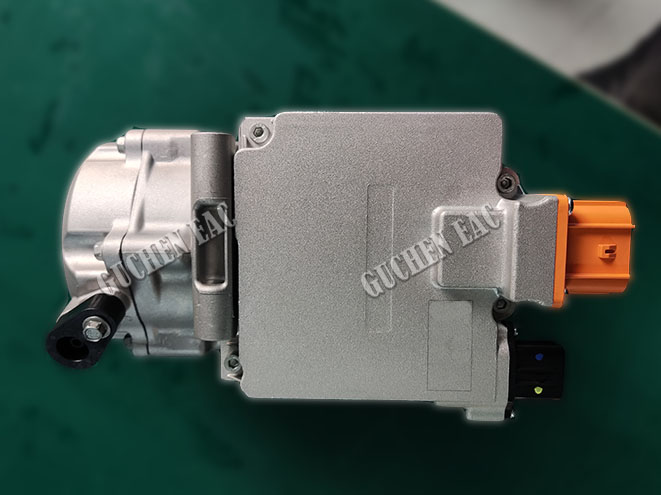 More Outstanding Features of GC27A540 EV AC Compressor
1. The 540V electric air conditioning compressor is a
purpose-built DC powered unit with maximum cooling efficiency
for electric passenger vehicle AC systems. It is designed to operate quietly (noise/vibration test) and reliably (performance test). There is no other e-compressor like it on the market.
2.
GC27A540 e-compressor is a variable speed unit.
The
EV AC compressor
is with Variable Speed Drive (VSD), automatically adjusting the operating speed. It is able to provide enhaced load-matching capability, improving performance and saving a lot of energy.
3.
Speed controllable via PWM/CAN
Controlling the speed of brushless DC electric motor (BLDC motor) by using either Pulse Width Modulation (PWM) or Controller Area Network (CAN). Speed variable 1000-6500 rpm.
4.
Displacement: 27CC
The displacement is 27CC per revolution running at 1000 to 6500 RPM.
5. Various Protection Functions for the Compressor
Guchen EAC high voltage compressors are designed with front-end
protection from overtemperature, undervoltage, overvoltage, and overcurrent
. All the protection functions for the compressor unit increases the whole AC system reliability.
---

Guchen EAC 540 volt electric compressor enables a more efficient HVAC solution that can be used in a variety of electric automotive vehicles.
---
Application
◆ Full electric lightweight sports car
◆ Electric utility and special vehicles, all-electric heavy equipment, and other vehicles with purely electric powertrains
◆ Electric passenger cars, passenger vans, SUVs and other new energy passenger vehicles
◆ Electric light trucks and excavator applications, electric delivery vehicles
◆ EVs thermal management, battery cooling during fast charging
◆ Vehicle electrification/EV conversions: for converting combustion engine cars into electric ones.
Tips:
1 or more units sample order is available for start ups, electric vehicle project prototype, or manufactures who are in the development phase of BEVs. For more information, please mail to
shao@guchen.com
,
ec@guchen.com