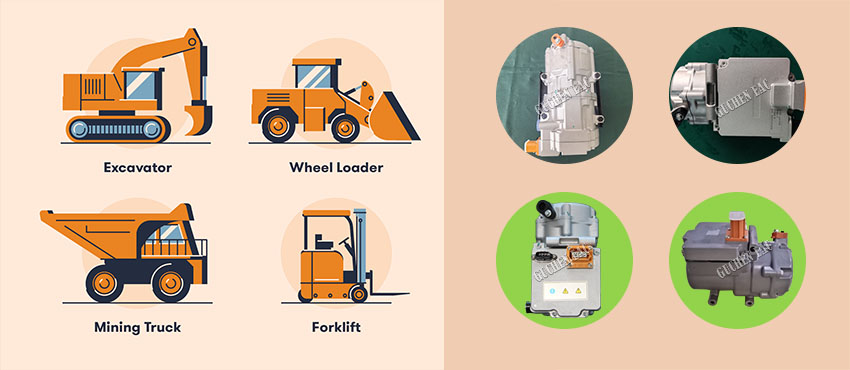 Supplying Custom E-compressor Solutions to Major Manufacturers in the Electric Construction Machinery
Guchen EAC has years of experience in developing and manufacturing
electric ac compressors
for a variety of industries, including construction equipment, agriculture and mining machinery, bus, truck and automotive industry.
Here are some examples of customizations we offer:
◆ Customized Compressor Designs
Guchen EAC has a professional team with advanced engineering capability and complete manufacturing facilities. We are now able to offer custom-engineered solutions to meet your specific design requirements. Our team of engineers will collaborate with you, to design and manufacture an electric compressor with a custom housing and configuration to meet your budget. No matter what type of equipment you plan to use, we can offer the right solution.
◆ Added Ability of Varying the Frequency and Voltage of the Electric Motor
Variable speed electric compressor
is a new type of compressor that can adjust the volume of refrigerant from zero to full capacity according to actual operating conditions. It has the advantages of high efficiency and low noise, which greatly improve working conditions for operators and reduce maintenance costs for users.
Guchen customized variable frequency compressors have the ability to increase or decrease their output based on the demand placed on them by customers. This allows them to run at their optimal efficiency, which means less energy consumption while still providing enough pressure to operate all of your equipment reliably.
They are widely used in climate control systems in electric dump truck, hydraulic excavator, electric wheel loader, and electric forklift etc.
◆ Custom DC Voltage Range
Each electric vehicle has a battery of a different voltage, but most often, common nominal pack voltages in electric construction machinery range from 400V to 800V. We can offer e-compressors with the following voltage ranges: 12V, 24V, 72V, 96V, 144V, 320V, 350V, 360V, 540V and 800V. With the increasing demand for higher voltage systems, the voltage of
Guchen compressors
will be extended to a higher level and a wider range in the near future.
Guchen EAC customizes the compressor voltage range according to the cooling power requirements of different construction equipment manufacturers. This makes it possible to use our compressors in applications where the standard line voltage is not compatible with our existing products.
◆ With R1234yf Refrigerant
In recent years, Guchen EAC has been developing R1234yf compressor technology on its own. We have brought our own original design technology into full play in this field, and has successfully developed
several HV compressor models that uses R1234yf refrigerant
instead of R134a. It is safe, reliable and energy efficient. Such compressors meet the latest European environmental standards. This allows Guchen EAC's products to be used in Europe without any further modifications.
Benefits of R1234yf Refrigerant:
1. Environmentally friendly, no harm to the environment.
2.The R1234yf refrigerant is a non-ozone depleting HFO alternative with a lower GWP than R134a and has already been approved by many countries in Europe and Asia as well as North America.
3. With its low global warming potential (GWP) and high efficiency, R1234yf can reduce fuel consumption and CO2 emissions by up to 50%.
---
Top 3 Popular Electric Compressor Models for Electric Construction Equipment
The GC27A540, GC34A540, GC34A800 and GC27A800 are all electric compressors that are ideal for use in construction equipment.
▶ GC27A540
The GC27A540 is a 540 volt, 27cc displacement compressor. It is compatible with most electric construction equipment, including the DOOSAN DX300LC ELECTRIC and VOLVO L20 ELECTRIC. It has a noise level of 71 dBA at 3000 RPM, which is considerably quieter than other models on the market. In 2022, it has been widely recognized by Indian and U.S. customers due to their superior performance and premium quality characteristics. Moreover, they are designed according to international standards to ensure high safety performance during use. They are also highly reliable as they are made with high quality materials that can withstand long-term use without any problems or defects occurring in them at all times or after several years' usage too!
Model
Noise (dB(A))
GC27A540
3000 RPM
4000 RPM
6000 RPM
71
73
76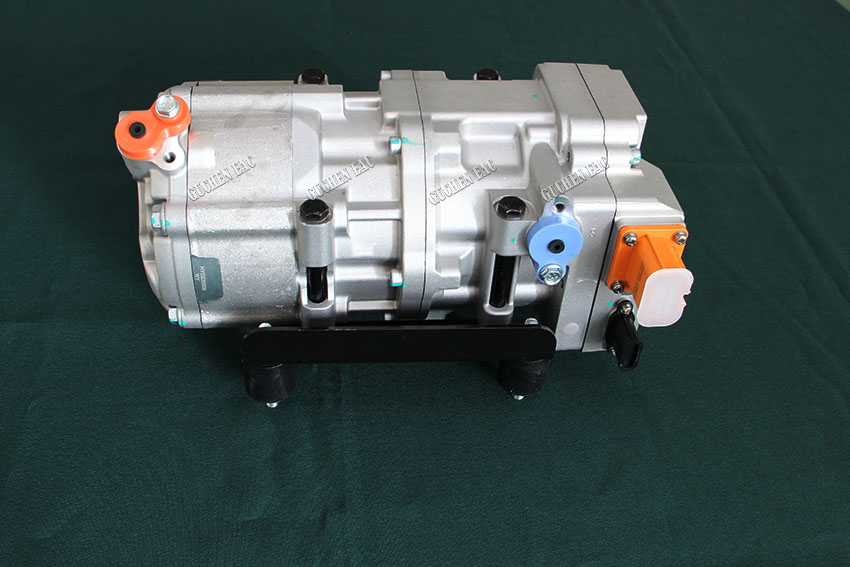 Click to see more detailed information about GC34A540 Model
▶ GC34A540
Guchen Team has developed GC34A540 with emphasis on efficient performance and compact construction. It compactly integrates sine wave drive, scrolls and PM brushless generator into one high-design unit. The 34cc 540v compressor uses a cast iron casing that helps improve its durability and longevity, while also reducing noise levels to less than 75dB(A).
Thanks to its advanced scroll compressor design, the
electric climate compressor
is designed to be more energy-efficient, better performance and reliability, with a cooling capacity of 5.9KW at 6000 RPM, EER as high as 2.18.
GC34A540
Motor Speed (rpm)
3000 RPM
4000 RPM
6000 RPM
Cooling capacity (W)
2950
4000
5900
Input power (W)
1360
1820
2700
EER
2.17
2.2
2.18
▶ GC34A800
Careful design, assembly standard, component quality make
GC34A800 electrically-driven compressor
the best solution for applications on electric construction machinery.
It features rapid start-up and recovery times - less than 15 seconds - while its variable speed control function allows users to easily adjust the motor speed from 1000 RPM to 6500 RPM via PWM or CAN. The integrated speed governor can adjust the speed according to different working conditions. It also has an overload protection function to ensure the safe operation of the compressor.
The high voltage connector of 800v compressor is supplied by Jonhon, with high waterproof design (IP6K9K) and safety performance, which can avoid short-circuit caused by external factors during operation.
HV Connector
Name
Model
Supplier
Connector
HVIL-M2S(16A)-00A-1
Jonhon
LV Signal Connector
Name
Model
Supplier
Jacket
6189-1083
Sumitomo
Terminal
8100-3455
Seal Ring
7165-0796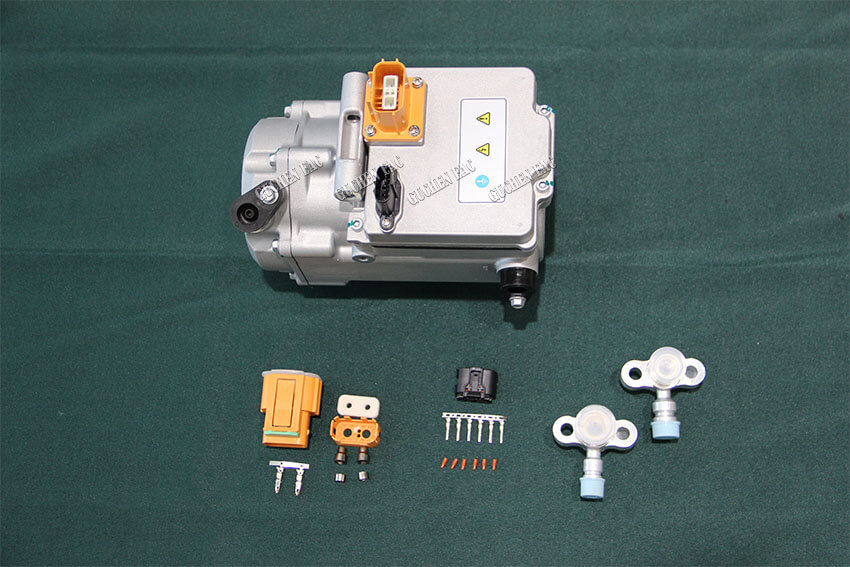 The main body adopts high quality aluminum alloy casting, with excellent mechanical strength and corrosion resistance.
GC34A800 for a wide range of construction machinery, such as:
Electric forklifts and telehandlers
Electric cement mixer trucks
Electric concrete pump trucks
----------------------------------
Guchen EAC's wide range of customization options allows customers to purchase high-quality electric compressors at an affordable price point. We provide free consultation services for global customers who need help selecting the right compressor model for their EV application needs.