"Can you please send full spec for suitable 12v compressors to retrofit air con into a 1950s Rolls Royce and similar vehicles"
"We are currently working on an electrification project for a 4x4 off-road vehicle, and we are evaluating the air conditioning compressors for this vehicle. We would like to know some options."
"Please send me information for products offered by Guchen, that can be used for high voltage mobile battery thermal management heat pump and coolant chiller applications."
---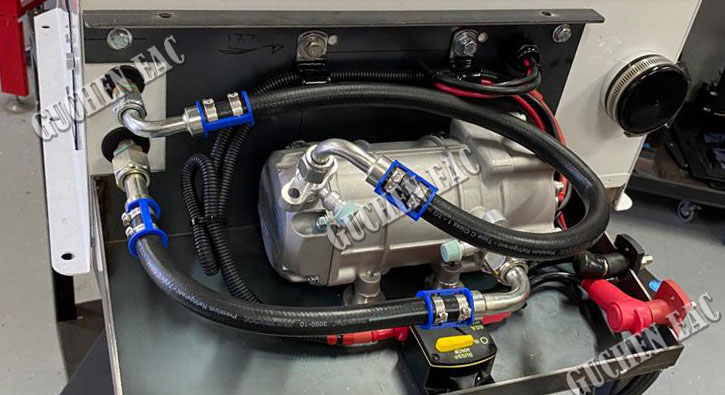 It is a confusing experience to determine the best selection of
electric air conditioning compressor
for your specific requirements, especially when looking for your first air con compressor. Guchen EAC takes questions from customers who want to know which compressor to buy, and concludes this buying guide to point you in the right direction.
---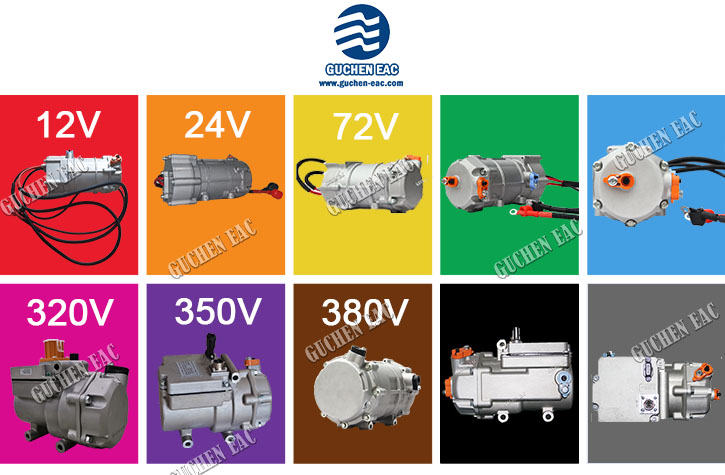 ◆ Voltage
Electric compressors are sensitive to the supply voltage. Every e-compressor has its operating voltage and the voltage range varies, therefore voltage is essential for calculating the model of compressor you need for the vehicle.
Low voltage ac compressor
normally works in the voltage range of DC 9 volts to 85V. The nameplate voltage of low voltage compressor usually be 12V, 24V, 72V.
--"I need a complete Air conditioner kit for a semi truck sleeper cabin. I need all parts, condenser, evaporator, fans, etc, but i need 12v electric compressor."
--"I need a quotation for 12 volt DC electric compressor for refrigerated pick up vehicle."
For
high voltage air conditioning compressors
, the nominal voltage range appertaining to the electric motors usually runs at a high voltage of DC 200V to 800 volts. All electric compressors are designed to operate within a ± 10% tolerance band above the design voltage. Taking Guchen EAC FP40A380AB model for example, its designed voltage is 380V (the voltage shown on the nameplate), but its electric motor has a tolerance band of plus/minus 18%. Thus the voltage range that FP40A380AB model can tolerate would be DC 220V to 450V.
What we should notice is that, only when connected at the rated voltage can an electric compressor have the best performance. That is why it is so essential to exactly match the compressor right with your vehicle voltage. Do not put unnecessary stress on the electric motor.
---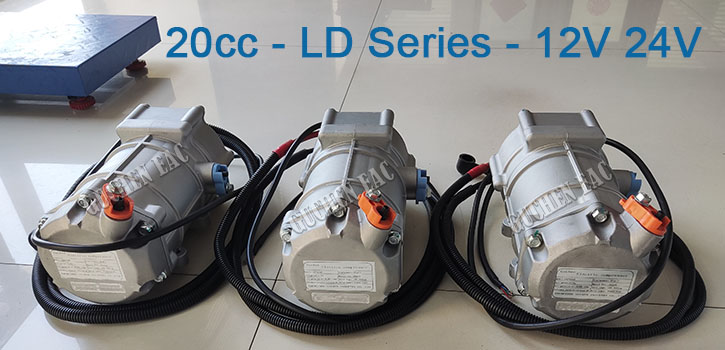 ◆ Displacement
"I would like to try it for ice cream refrigeration. We need 20 cc or 27 cc or 34 cc scroll compressor. "
Knowing the displacement is very important before you buy an electric compressor. Displacement is expressed as cc/rev (centimeter cube per revolution), standing for the air discharged volume of ecompressor per one revolution. We all know that electric air con compressor are fixed displacement compressor type. Different models are with different displacement, such as 20cc (the electric compressor discharges 20cc of gas per revolution), 27cc, 34cc, 40cc and 86cc etc. The various displacement setting can provide flexible responses for a variety of needs.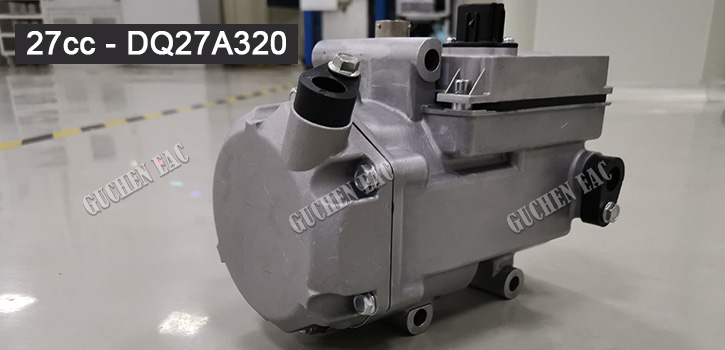 Taking Guchen EAC DQ27A320 for example, the displacement of DQ27A320 model is 27 cc/rev, 320V nameplate voltage. For a 320V electric car, there is also 20cc compressor model available - DQ20A320, but with a lower refrigeration capacity compared with DQ27A320. Displacement of the electric air conditioning compressor will directly influence cooling capacity. That is to say, when the supply voltages are the same, the larger displacement volume are with higher cooling capacity under the same electric motor speed condition.
---
◆ Speed Range
With urgent demands for high climate comfort and high energy efficiency, electric ac compressors are being developed to be variable in electric motor speed, with minimized energy losses and wide operating range.
How to achieve variable operating speed in an e-compressor?
By
Adopting the latest inverter technology
.
That is why
variable speed electric compressor
is also called as inverter type e-compressor. By adding an inverter, the electric motor speed can be continuously altered to perfectly match the air demand. When it comes to choose the efficient EV AC compressor, please confirm with your supplier the following questions:
◆ does the compressor unit have a variable speed drive to allow the operator control the motor speed accordingly?
◆ If yes, what is the speed range?
The purpose to confirm its speed range is to see whether the motor speed can be modulated very smoothly
within a wide range
. The
EV AC compressors
manufactured by Guchen EAC are with a rather wide speed range, ranging from 1000rpm to 6500rpm. EV driver can control its speed depanding on the demand. When the demand slows, the EV AC system will reduce motor speed accordingly, which saves energy.
◆ What communication protocol is used in the e-compressor?
Usually, CAN (Controller Area Network) communication or PWM (Pulse Width Modulation) communication systems are employed in the electric vehicle air conditioning systems.
---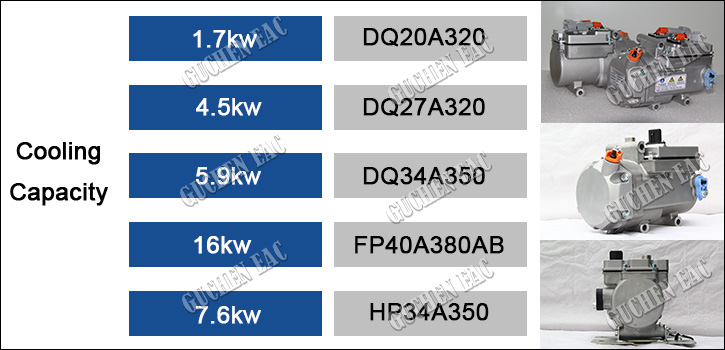 ◆ Cooling capacity
As we mentioned above, there are several parameters influencing the refrigeration capacity of an electric compressor. You can choose the right e-compressor with appropriate cooling capacity, according to the ambient temperature and vehicle size. The higher ambient temperature requires a larger cooling capacity of e-compressor.
Do pick the right BTU!!!
An appropriate compressor enables the EV AC system remove sufficient heat from the vehicle compartment, not too low or too high. An electric compressor with too low cooling capacity for your EVs will result in longer cooling time. A too powerful electric compressor will create extra load on its motor, causing reduced lifespan.
---
◆ COP
Be open to new technologies and innovations of electric air conditioning compressors if you are replacing an old one. E-compressors have continued their steady development over the years to meet the increasing climate control demands of EVs. Technologies change, and there will be higher COP option for your vehicle. The popularity of
Heat pump ac compressor
is a powerful proof.