In 2022,
Guchen EAC
made every endeavor to fulfill the requirements of our global customers. We have established long-term cooperative relationship with many well-known customers from different countries and regions, such as Europe, America, Middle East and Africa. We are pleased to announce that we have finished our annual analysis of the US compressor market. We found that US customers showed great interests in several compressor models of Guchen EAC, especially the LD20, GC27 and GC34 series.
The demand for electric ac compressors in the US market is driven by the rapid growth of electric vehicles and the popularity of DC powered air conditioners. The increasing demand for electric cars will increase demand for electric compressors which are used in electric cars air conditioning systems. On the other hand, more and more people are using
12V 24V air conditioners
because they are cheaper to operate and easier to install on trucks and vans.
In this article, we will share the best selling electric vehicle ac compressors in the U.S. market in 2022.
---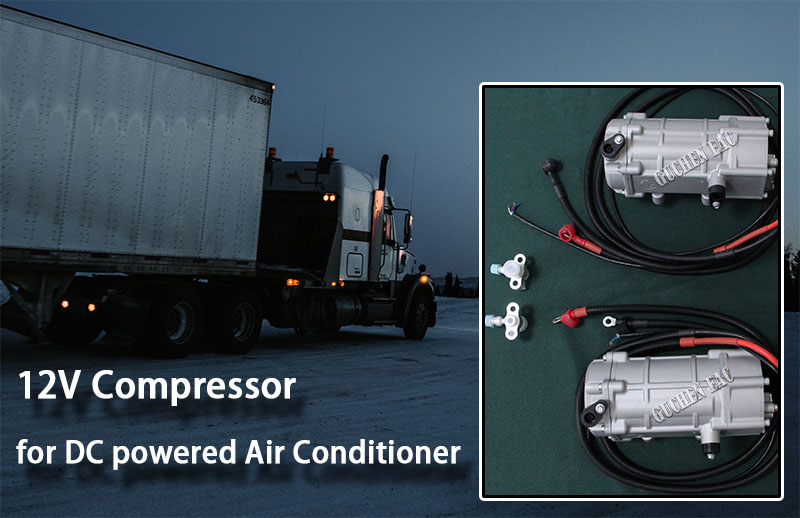 20cc, 12V DC, 4000rpm, 2400w, R134a
The first on our list is the 12v ac compressor, which is a refrigeration unit that can be used for truck cabin cooling systems or heavy equipment cooling.
Model No.
: LD20A12AB
It has an operating temperature range of -10℃ to + 65℃/14℉ to 149℉.
Applications:
The 12v compressor is designed to work with 12 volts of direct current from the vehicle's battery. This unit can be used by people who want to add 12v air conditioning to their vehicle. It is a very popular compressor unit for use in small cars, tractors, vans and trucks, as well as boats and RVs.
Top Picks:
One of the biggest benefits of this product is its optimized noise level. It offers a quiet operation, with a noise level of only 58db at 3000rpm rotating speed. This is particularly important if you sleep at rest stops in your RV.
Another advantage of buying this small AC compressor is its compact design. Despite being small in size, it can still offer an impressive cooling performance.
---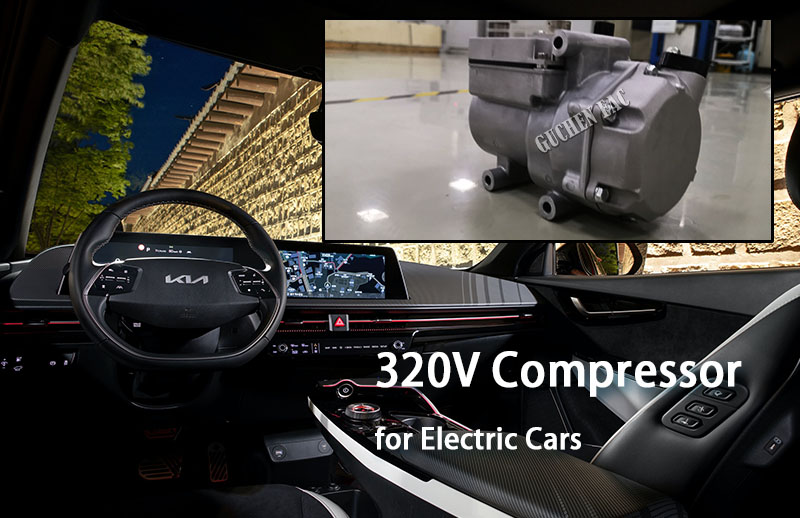 2. 320V Electric AC Compressor for Car
27cc, 320V DC, 6500rpm, 4500w, R134a
Model No.
: DQ27A320
This model is one of the
best electric compressors for car on the United States market
due to its high-quality performance and durability. The U.S. electric car market has been growing rapidly in recent years. This trend has pushed the further development of electric air conditioning compressor in U.S. market.
The
320v electric car air conditioning compressor
is specially designed for use in EV air conditioning systems that require high-voltage power. It has a voltage range of DC 230V to DC 450V, well compatible with most types of electrical systems of electric cars.
DQ27A320 model features a unique design that helps it withstand wear and tear over long periods of time. This unique design also makes it easy to install and use. It has an automatic protection mechanism that protects it from overvoltage, overcurrent and overheating, ensuring safety during operation.
Benefits of Guchen DQ27A320
:
The increasing demand for Guchen 320V electric air conditioning compressors is mainly due to their advantages such as energy saving and environmental protection. The annual energy consumption of an electric air conditioner is only 1/10 compared with that of a traditional one, and it also has low noise and vibration during operation. It can provide a comfortable driving environment for users at different temperatures and humidity levels through adjusting temperature, humidity and airflow automatically according to the needs of passengers in real time.
---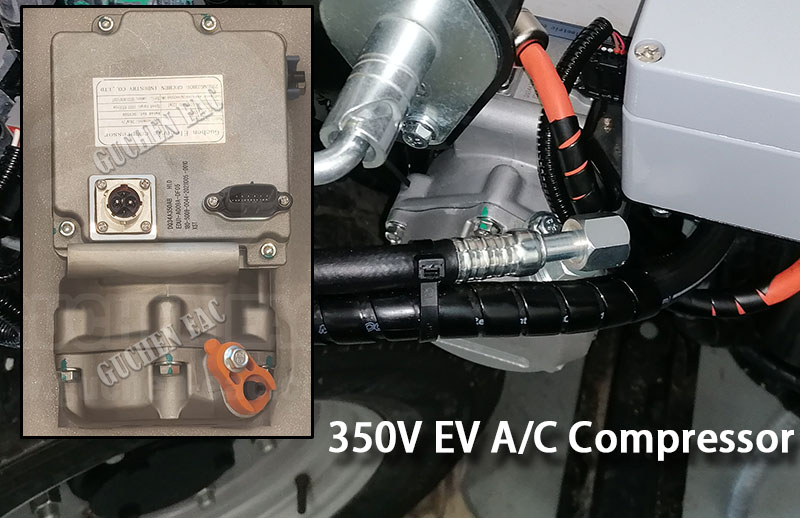 3. High Performance 350v High Voltage AC compressor
350VDC, 34CC, 5900W, RL68H Oil/120ml, CAN 2.0b or PWM
Model No.
: DQ34A350
It is another popular model that has been enjoyed by many U.S. EV makers over the years. It has been tested by many customers and received high praise from them. It's worth buying!
Maximum speed
: 6500 rpm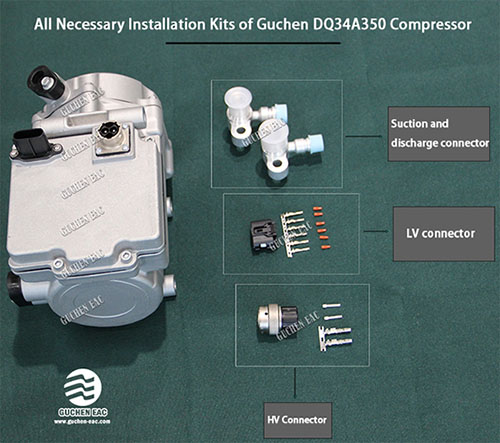 DQ34A350 model is a
high performance 350V EV AC compressor
that can be used to meet the automatic heating and cooling needs of electric trucks, RVs vans and other automobiles. This compressor unit is easy to install and comes with all the necessary parts that are needed for installation, including HV connector, LV connector, suction and discharge connector.
Oil-gas Separator
:
This model offers a number of benefits such as high operating efficiency, low noise levels, and low vibrations during operation. It features an oil-gas separation design, to avoid excessive lubricating oil entering the refrigeration system and affecting heat transfer performance. The lubricating oil after separation and recovery will help lubricate and seal the compressor.
Performance
:
One thing that sets Guchen 350V unit apart from others on the market today is its ability to give better cooling performance and be more accurate to the temperature set point.
DQ34A350
Speed (rpm)
3000
4000
6000
Cooling capacity (W)
2950
4000
5900
Input power (W)
1360
1820
2700
EER
2.17
2.2
2.18
---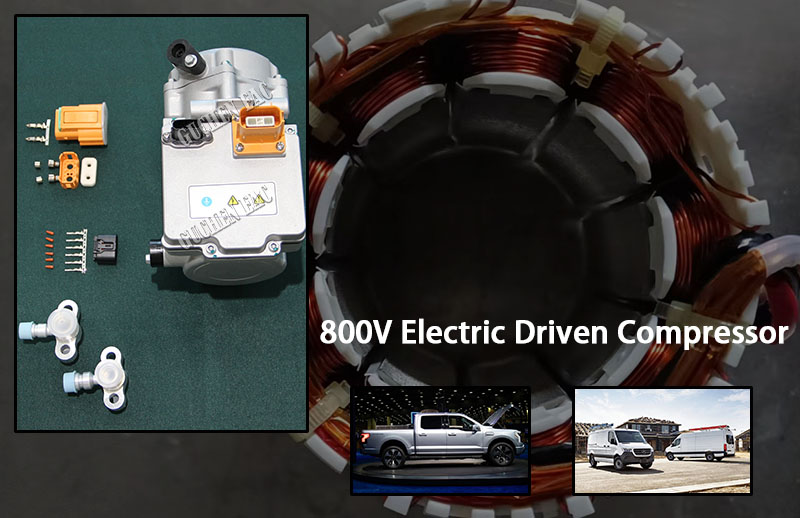 4. DC 800V Electrically-powered Compressor for Commercial Vehicles
34CC, 800V, 6140W, BLDC motor, inverter technology, variable speed
Model No.
: GC34A800
We found that US customers showed great interests in several compressor models of Guchen EAC. Among them, the most popular model is GUCEN GC34A800, which is a new product launched by Guchen Team in the year of 2020.
The
800v electric driven compressor
is mainly composed of three parts: a powerful electric motor, an inverter and a compressor. It is one of the most powerful models available on the global market today because it carries a voltage up to 840V.
For temperature control of E-drive
:
GC34A800 model is the first product of a new generation of compressors for the temperature control of electric drive. It has been developed to meet the requirements of electric vehicles (EVs) and hybrid electric vehicles (HEVs) in terms of performance, reliability and safety.
For thermal management
:
The 800V DC compressor allows the battery pack to be cooled down quickly during or after fast charging, helping maintain its health and longevity.
Usage in Electric Commercial Vehicles
:
◆ for efficient cooling or heating of EV's cabin.
◆ a key component in the thermal management of electric vehicles, crucial for fast charging speed.
◆ for extending battery life in both EV and HEV applications, used for cruising range extension.
---
Conclusion
The year 2022 is over, and the new year 2023 has already begun.
In the future, Guchen EAC will continue to adhere to the "innovation, quality, efficiency and customer first" business philosophy, fully meet customer needs through technical innovation and excellent product quality. We will strive to provide you with
more efficient electric air conditioning compressors
at reasonable prices and first-class services.