A Brief Introduction on Guchen EAC
Ever since the summer of 2010, Guchen EAC has been a leading manufacturer of electric air conditioning compressors. We have a production capacity of 300,000 sets per year and employ over 100 workers.
Huge demands on electric a/c compressors:
With the increasing environmental awareness around the world, there has been a growing demand for eco-friendly vehicles. Obviously, this has also affected the cooling industry as people have switched over to cooling with electric compressors in order to reduce their carbon footprint. This has led to more demand for Guchen EAC's products in China as well as abroad.
Two series manufacture compressors:
Guchen EAC produces two series of electrically-driven compressor units:
High volt DC300V-DC800V series
, and
Low volt DC12V-DC144V series
. They use aluminum alloy as the material for their shell, and adopt entirely new scroll compressor technology, suitable for the most demanding air conditioning applications.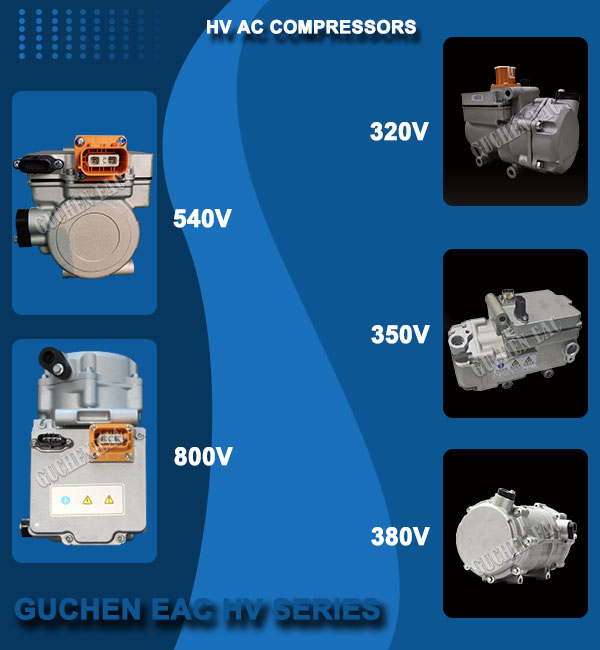 Many different applications:
Guchen EAC is committed to producing reliable, durable and cost-effective e-compressors that provide peace of mind for our global customers. Guchen compressors have been widely used in various environmentally-friendly industries, such as no-idle truck air conditioners, DC powered van air conditioner, electric 3 wheelers, electric car air conditioning, electric truck & bus, EV conversion industry, heavy construction equipment, and electric sanitation vehicles etc.
---
Guchen's Electric A/C Compressors Provide Clean Energy Solutions for EV Air Conditioning
The use of electricity to power
EV AC compressors is cleaner and more efficient
than using fossil fuels, which helps us prevent carbon emissions and protect the environment. Guchen electric compressor is the most environmentally friendly one on the market today. They are designed, manufactured and tested to be compatible with electric vehicles.
Long history:
Guchen has been working to provide clean energy cooling solutions for over 20 years. We have been in the business of manufacturing and distributing electric air conditioning compressors that are more energy efficient than others. We do this with our patented core technologies to improve efficiency and reduce emissions, while saving costs for our clients.

Our electric ac compressor is an excellent choice as it provides an eco-friendly solution for EV manufacturers/purchasers/owners that need an energy efficient and long lasting A/C solution.
Rich experience:
Based on our many years of experience in air conditioning technology, we've created a wide range of
highly-efficient electrically-driven compressors
that can be used in largely any new energy vehicles, including the most energy efficient electric cars available today. They are specifically designed for EV applications and use only the energy that is necessary to provide maximum airflow with no noise or pollution.
100% eco friendly product:
For manufacturers, it reduces operating costs and air pollution from their manufacturing processes. For the environment, Guchen's electric ac compressor helps reduce emissions, contributing towards a cleaner future. And finally, it is also a solution for consumers as they have access to cheaper electricity prices which are a result of this eco-friendly technology.
---
Guchen Noise-free Electric Compressors, Delivering Enjoyable Driving Experience
In recent years, more and more people are considering the need for a calm ride. Noise-free ride has become more prevalent in vehicles that run on electricity because it is necessary for electric cars to compete with traditional, gas powered vehicles. Some automakers are adapting their lesser-noise air conditioning systems to work on electric vehicles.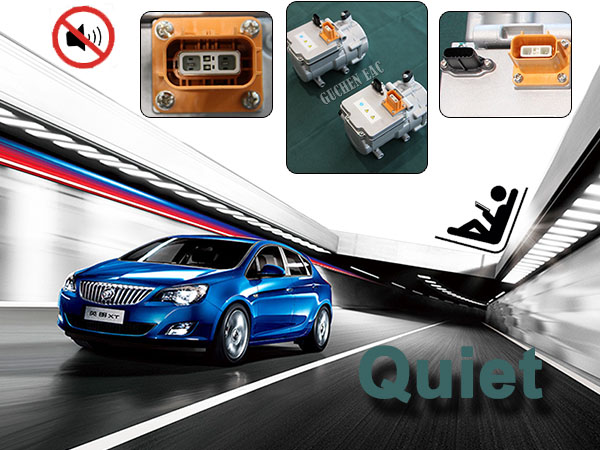 Guchen EAC
has developed new quiet electric car ac compressor designs that are driven by electric BLDC motor. Noise-free electric compressors are products of Guchen's technical innovation and continuous pursuit of perfection. New motor and compressor designs have created a quiet and calm ride experience for drivers and passengers, without sacrificing performance.
Precise temperature control:
The quiet electric compressors help to provide consistent temperature control, not just in the front, but also the rear passenger seats in a luxury car, making them highly desirable for electric vehicle use.
For any inquiry on electric air conditioning compressor solutions, please feel free to mail to
shao@guchen.com
or
ec@guchen.com
, or call us at 86-371-69152892.