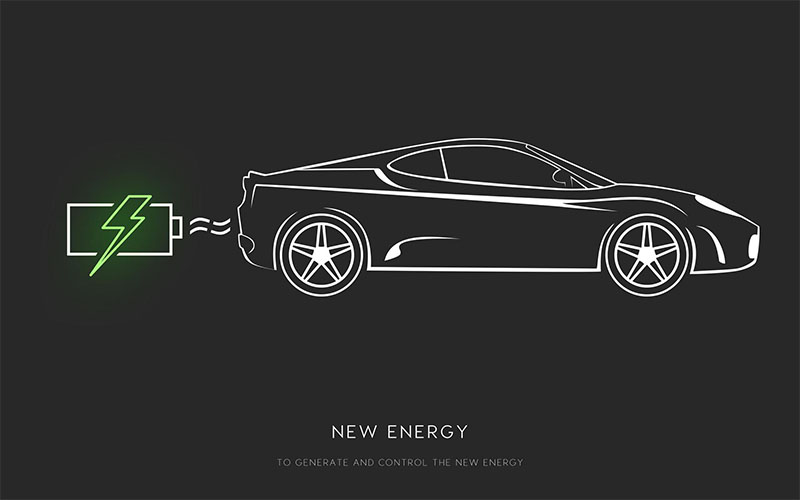 Car air conditioner directly affects driving comfort. For BEV (battery electric vehicle), it also affects its cruising range.
Today's electric car compressors are becoming more efficient. With so many different types of EV compressor available on the market today, it's necessary to find a compressor unit with great price-performance ratio that meets your power plant requirements. Here Guchen EAC lists top 3 factors to consider when you are looking at different options: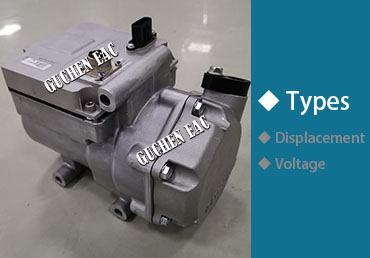 Factor #1: Electric Scroll Compressor vs. Heat pump Electric Scroll Compressor
An electric scroll compressor
has the advantages of fuel-saving, high cooling performance, low failure rate, which are suitable for passenger cars, light passenger vehicles, especially new energy vehicles. Since electric vehicles have high-voltage batteries, three-phase AC power is generated after the voltage is transformed by the inverter, so electric scroll compressors can be used in electric vehicles. It effectively solves the problem of the power conversion of the new energy vehicle air conditioner, realizes the direct current variable frequency drive, and greatly improves the efficiency and reliability of the electric car air conditioning system.
A heat pump system
can be used at minus 25℃, effectively solving the heating problem of electric car air conditioner in low-temperature environments. At present, Guchen EAC, Denso, Sanden, and Valeo all have heat pump systems.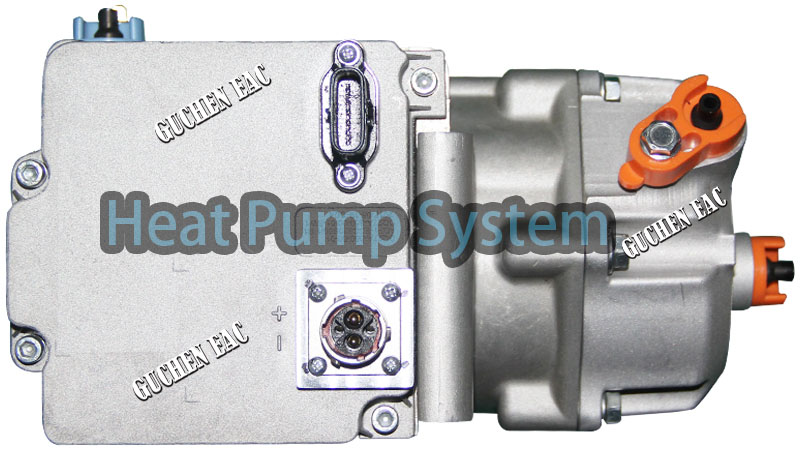 The difference from gas cars is that the air conditioning system of electric cars is driven by electricity provided by battery packs. The heating solutions of EVs include PTC and heat pump etc. Electric car air conditioner with heat pump system will be more economical and greater heating performance, when compared with non-heat pump ones. Heat pumps have been rapidly promoted in the field of new energy vehicles, but not all EVs have embraced this technology yet.
How it affects price
: a
heat pump scroll compressor
will cost more than a ordinary electric scroll compressor.
Basically, the more technology an electric compressor offers, the more comfort it provides and the more expensive it is.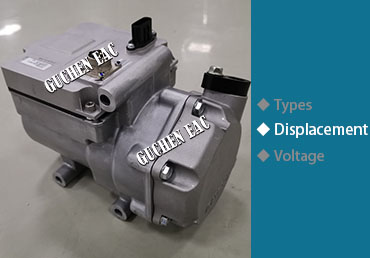 Factor #2: Displacement Volume
The displacement volume of your compressor measure the cooling capacity of the unit.
At Guchen EAC, the new generation electric scroll compressor are manufactured and produced in multiple sizes to cater to different system capacity needs of different electric vehicle systems. The variations of our high voltage compressor sizes are listed below
Electric Vehicle Size
Compressor Model
Displacement Volume
(in cubic centimeters)
Small
DQ20A320
20cc
HP20A320
Medium
DQ27A320
27cc
HP27A320
Large
DQ34A350
34cc
HP34A350
FP40A380AB
40cc
FD86A320AC
86cc
The number following the letters representing the displacement volume and the voltage of the compressor (i.e. DQ20A320 has a displacement of 20cc for 320V EV air conditioning system).
When it comes to the prices of electric compressors, the displacement volume is another essential information that needs to be taken into consideration. The displacement of the electric compressor affect not only the cost of EVs but also cruising range.
How it affects price
: the larger the displacement of the electric car AC compressor, the higher the price.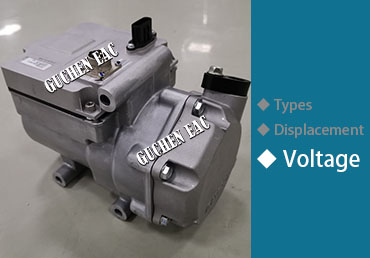 Factor #3: Operating Voltage
Electric compressors can come in a wide range of voltages and sizes. The operating voltage is another key factor in EV compressor costs.
Common operating voltage of electric air conditioning compressors include:
◆12-48V: available for 12V and 48V applications, parking coolers, auxiliary cooler etc.
◆200-500V: with high sustained current and high power; common system voltage range in automotive; It is the highest scale so far, increasing in adoption.
◆500-800V: high power, high runtime and high sustained current; available for electric bus cabin A/C, battery thermal management, DC fast charge, heat pump etc.; low scale production;
How it affects price: In electric vehicles, air conditioning requires a lot of power. The higher the operating voltage, the more power that will be available to the electric compressor and the higher the compressor cost.
For an electric car, as much as 450V may be necessary to provide the necessary power for the powertrain. High voltage compressors are required for efficient cabin cooling.