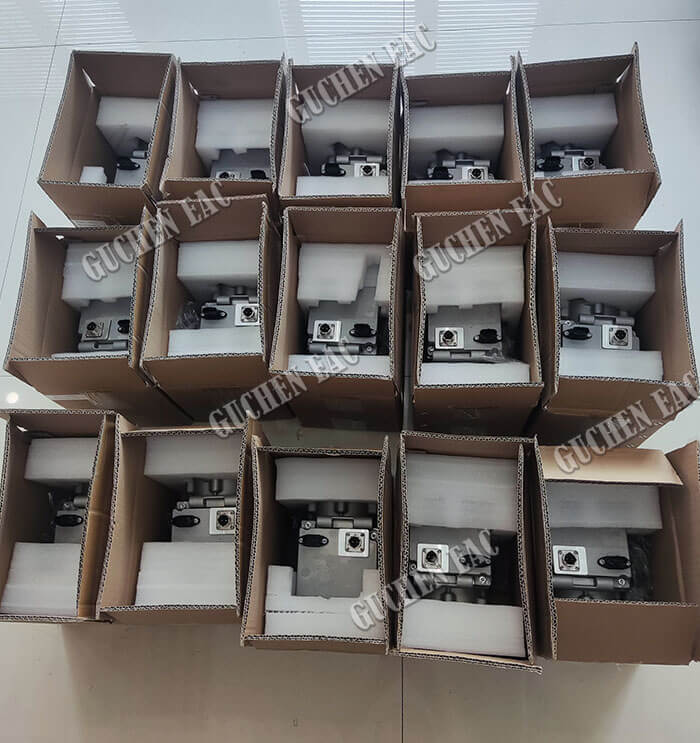 On 25th, June, 2023, Guchen EAC shipped 15 Sets of DQ34A350 e-compressors to our overseas market.
DQ34A350 is a high-efficiency electric car ac compressor
with 5.9KW cooling capacity at 6000 RPM.
Widely Recognized by Our Customers
The customer is from South Central Europe, who has purchased DQ34A350 compressors before and placed an order for 15 sets this time. The clients said that they are very satisfied with our products' quality and service.
This is our third time of cooperation with this customer. Because of their excellent performance, our customer has repeatedly ordered large numbers of products from us. They will place more orders in the future.
Outstanding Features of DQ34A350
◆ It has a high starting performance, excellent cooling capabilities and long life. The compressor is perfect for electric passenger vehicles such as car, van, RV and so on.
◆ The electric compressors have a high EER of 2.2 at 4000 RPM, which can greatly improve the energy consumption of electric cars.
◆ This year is the golden year for global automotive industry, especially for electric and hybrid vehicles. The sales volumes are increasing rapidly and the demand for e-compressors is also increasing steadily.
Guchen EAC has been dedicated to the development of electric a/c compressors over 10 years. We have cooperated with many domestic and foreign car manufacturers to provide reliable solutions for them.